Word Combiner is a special tool designed to combine words to make new words online, check out the great combinations which will surprise you!
Different Word Combinations For and
---
Can't come up with a special name for any of your life thing? Why not try combining a few words to create a totally new, original name? Of course, this also has the potential to invent words for storytelling and other purposes. You can use a word combiner for that.
When searching for all potential word combinations, a word combiner is a crucial tool. No matter what your profession is, the blending of different terms has become considerably more crucial. Because of this, focusing on different combinations may be necessary for you to succeed.
Combining two or more words into one can be really entertaining and provide a creative approach to generate new terms that are intriguing, one-of-a-kind, and truly original.
To learn more about this enjoyable experience, read this article.
Word Combiner
With the help of the online application Word Combination generator, you can join up to 4 words to produce an original new one. Use it to come up with unique names, nicknames, and strong yet simple passwords.
Start by identifying the first two words you want to combine. This might be anything ranging from a noun and an attribute to a pet name and a piece of clothing. There is only one thing left to do after choosing the first set of words: click "Combine." The technology then automatically mixes those words to create a completely new word. You can experiment with different word combinations if you like until you come across one that works for you.
The better a name stands out from competing products in the same category or niche, the more entertaining, unique, and fun it is likely to be.
Why should you use word combiner?
If you consistently use the same language in your work, you cannot survive in many fields. It consumes a lot of effort to choose a term that stands out the most, but you must.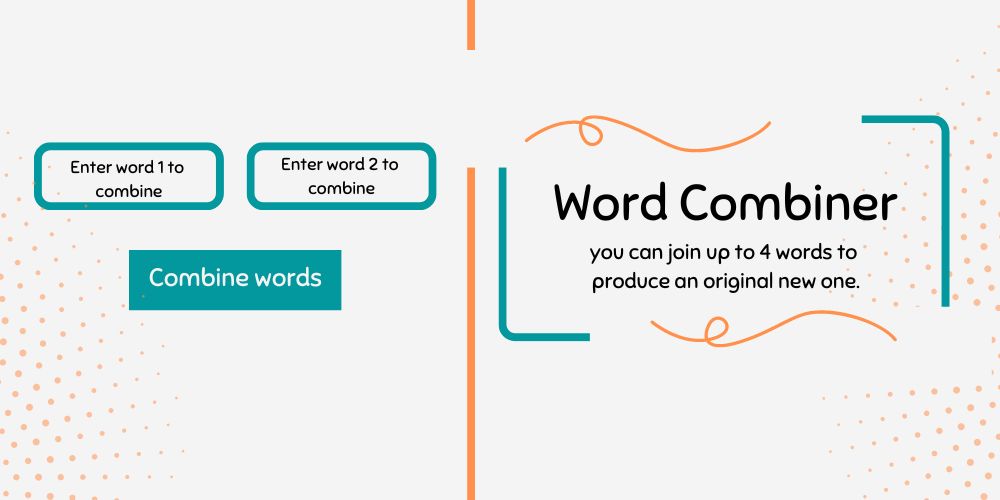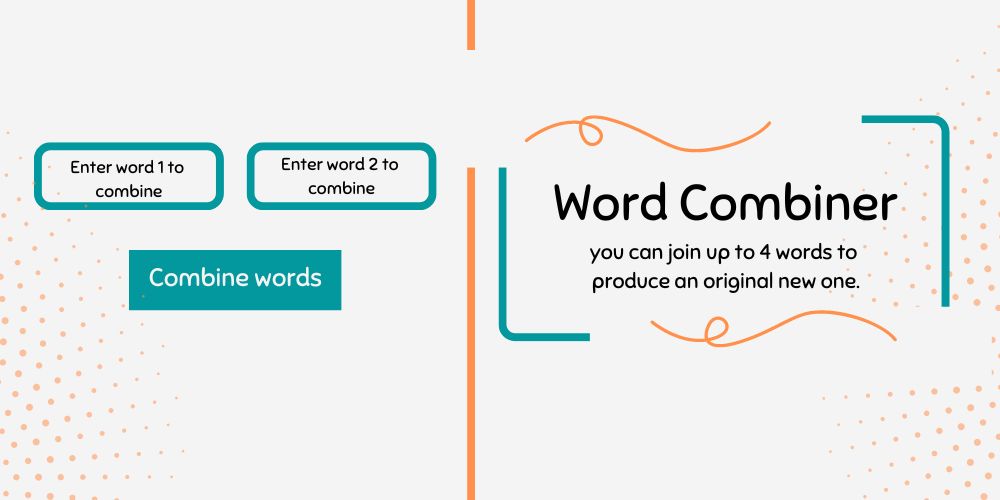 The best thing about our tool is that it generates a huge number of new words which you can use in any situation. You only need to choose your original words because the various word combinations are generated automatically.
Although word blending is a difficult skill to master, it is worthwhile. Some names will be popular while others might not. However, combining two words increases your chances of coming up with something original and memorable.
Also Check Name Combiner
Where you need to use Word Combiner?
A fresh method for coming up with novel word combinations is offered by the Word Combiner generator. It operates by choosing particular words, fusing them together, and creating new words and word sequences.
Why not try combining different terms if you plan to start a business but are having trouble coming up with unique names? It might be the name of you and your pet or a sentimental phrase. You can create any name you like with our word mixer generator. It not only improves the originality and creativity of your branding, but it can also boost user interaction.
Why A Word Combiner is Essential?
Even with two words, creating word combinations is not an easy task. As we already mentioned, completing this task manually would take some time. However, a tool can instantly give you a list of every possible combination. This tool has additional characteristics that support its significance, too.
You must use various word combinations to look for certain products if you're seeking for them. But how will you be able to collect every word that might be used in someone's search? In this situation, you will need to have a combiner. Because its generated list contains all these combinations.
You merely need to review the complete list that this program generated and pull out a few ideal choices. You can quickly learn all the combinations you want if you do it this way. There won't be any problems with your tasks, so you can easily concentrate on them and maximize the results of your work.
Our Tool
One of the quickest ways to combine two words is by using our online tool, which you can use if you believe you could use a little imagination and invention to produce a word much more original and intriguing.
Simply enter the two words you want to merge in the input tab, click "Generate," and you'll be presented with all possible combinations.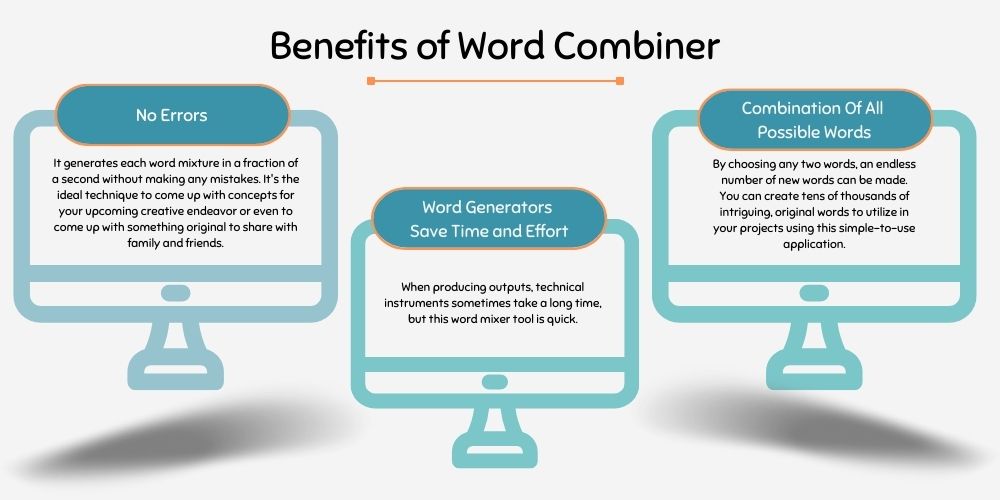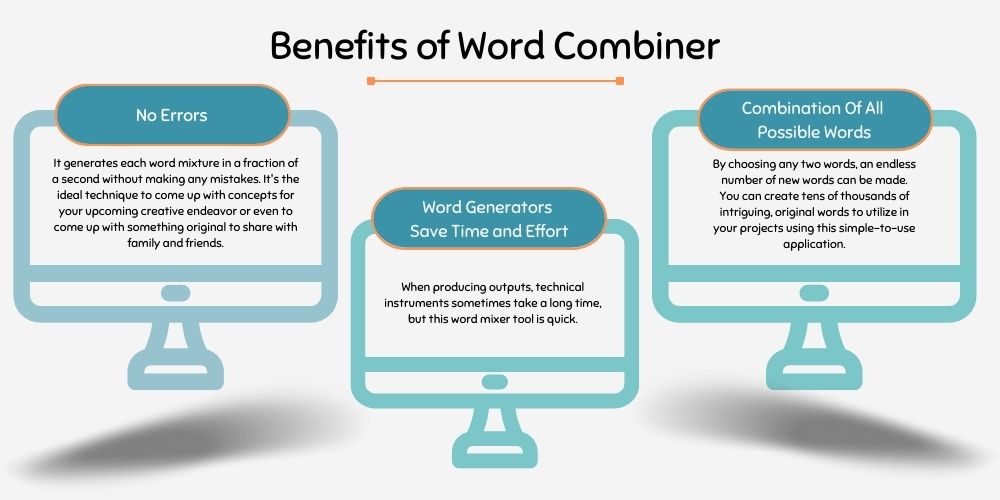 Benefits of Word combiner
No Errors
It generates each word mixture in a fraction of a second without making any mistakes. It's the ideal technique to come up with concepts for your upcoming creative endeavor or even to come up with something original to share with family and friends.
Word Generators Save Time and Effort
When producing outputs, technical instruments sometimes take a long time, but this word mixer tool is quick. When you enter probable keywords and press the "combine" button, all word combinations are displayed for you to choose from. It won't take long to achieve this.
Combination Of All Possible Words
By choosing any two words, an endless number of new words can be made. You can create tens of thousands of intriguing, original words to utilize in your projects using this simple-to-use application. With this software, you also can come up with names for fictional people and stories.
FAQ'S
How are two words joined together?
It is simple to form contractions. When we combine two words, one or even more letters from the second word are omitted. An apostrophe is used in place of those words.
Can I use word combiner to have more than one word?
All feasible keyword combinations will be produced using Word Combiner. It creates various combinations by fusing two words in various ways.
What other choices do SEO experts have if they don't use a word combiner software?
The only alternative is to manually generate each combination. The task of figuring out every possible combination of the words can be highly time-consuming.
Can I use word merge tool easily?
A word combination tool's simplicity of use is its best feature. Even those without extensive software experience can utilize these tools because of how easy they are to use.
Final Words On Word Combinations
Regardless of the reason we want to combine words, a combiner is very important in our life. Compared to manually combining words, it has sped up and simplified our work. To acquire a lengthy list of words which you can use in different parts, select our word combination tool, "Word Combiner."
Utilizing this tool would be ideal because it would demonstrate your efficiency and quick thinking. Play around with different word combinations to come up with something unique.
Some Other Tools You May Like: