Name Combiner is a tool that is used to merge two names to form a unique name. Use the combiner and experience the magic!
Different Name Combinations For and
---
If you are looking for a name mixer to make a name for baby, couple name, or business but are unsure between two shortlisted options, you might want to think about utilizing the Name Combiner Tool. You can construct a name that is both different from and related to the two names you have narrowed down with this program.
Combining names refers to the process of merging numerous words to form a new word. This is a great method to employ when naming a company that has two or more partners, they can combine names to create a unique (and unforgettable) brand name.
If you want to learn more about utilizing the Name Combiner Tool, look at the following context.
What is a Name Combiner?
The Name Combiner Tool connects two words that are split into distinct pieces to create a new word. To create a special and attractive name, combine up to two words.
Your life will be facilitated by a name combiner, which can combine names and phrases in novel ways. Combining names like Jake and Blare to create a new name is simple.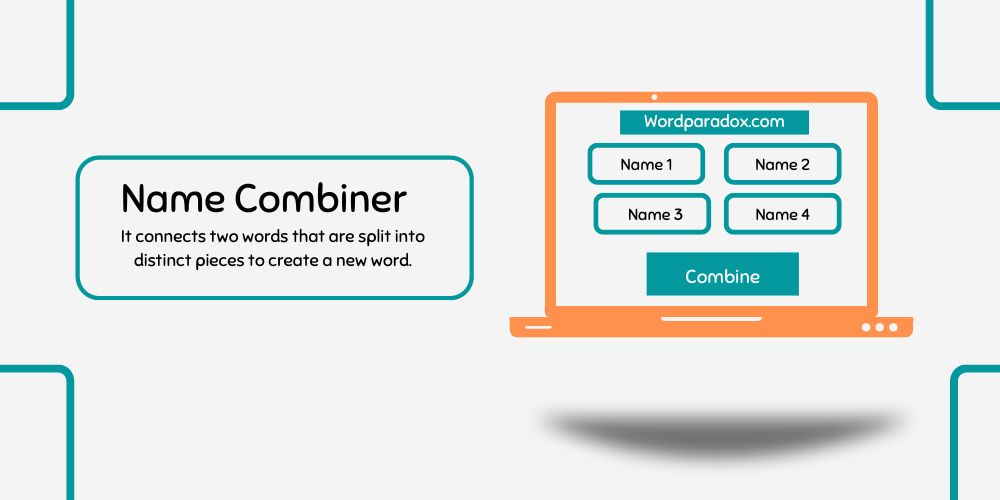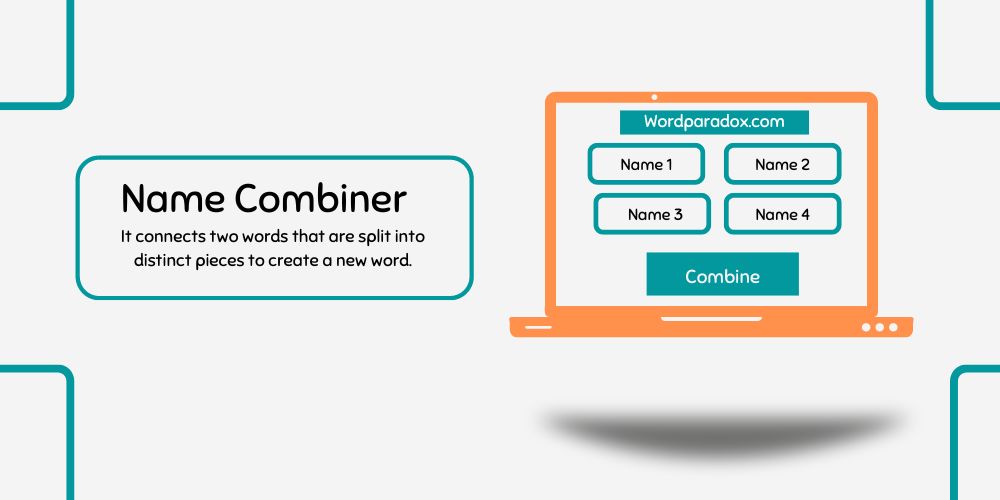 How does the tool works?
By analyzing other words and merging them into one, the name combiner tool creates a unique name. You can use two names in a name generator or up to four names overall with the use of name combining tools. Or in case of a name mashup where maximum four separate names are combined to create a single, distinctive name.
You can quickly experiment with the name to find the ideal nickname, team name, and even a name for your pet. To create a brand-new and distinctive character, you place two different words in various places. You can create a new name, nicknames, couple name, baby name, domain name by doing this.
Also Check Out Word Combiner
The user of this tool can quickly and easily access it, making it simple and available. The tool is also highly sought after due to its accessibility and flexibility of features.
Finding the ideal name is a difficult task. The name merger makes it easier to come up with a new name. Sharing the information with your loved ones and friends will help you make a more informed choice.
How can You use them?
It is so easy to use these technologies, whether they're websites or smartphone apps. It's not particularly difficult to control them. To finish your assignment, you must adhere to a few straightforward steps.
In the input box, enter the two names you really want to combine. To obtain the outcome, click the merge button after that. Be patient right now and let the tool do its job.
You will receive a list of distinctive names in about a minute. You can now pick from the generated names. But I suggest choosing the option that doesn't appear absurd. Because not all names that are produced are good.
Uses of Name combiner tool
A name combiner generator tool can be employed in the following situations:
Parents
Finding a distinctive baby name is made easy for parents with the aid of our tool. You can put a word alongside the name you want or put several names altogether.
Special nicknames
Different names or words can be combined and mixed to make name fusion, fantastic nicknames, relationship names, and more.
Fantasy names
Your usernames for video gaming are made up names. You can make original usernames with the aid of this program for online gaming as well.
Fresh Words
Terms can be mixed up to create brand-new, fictitious words.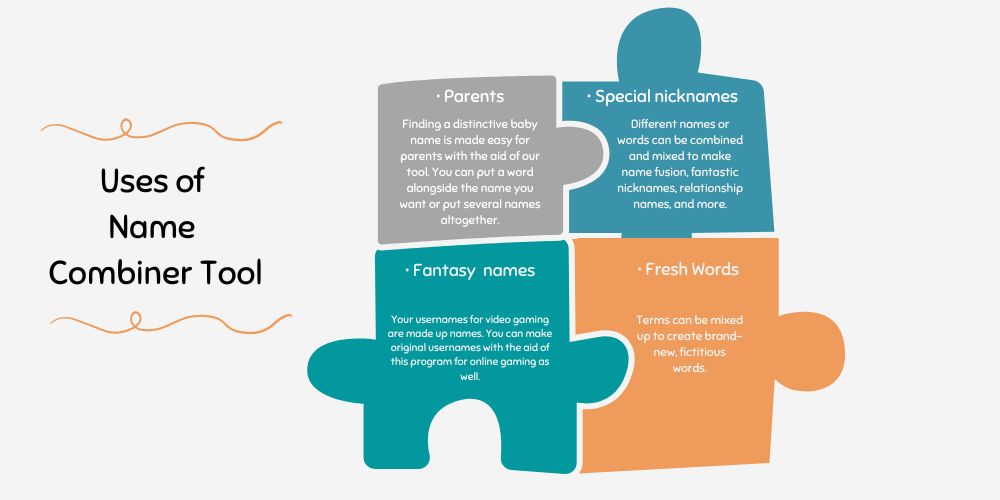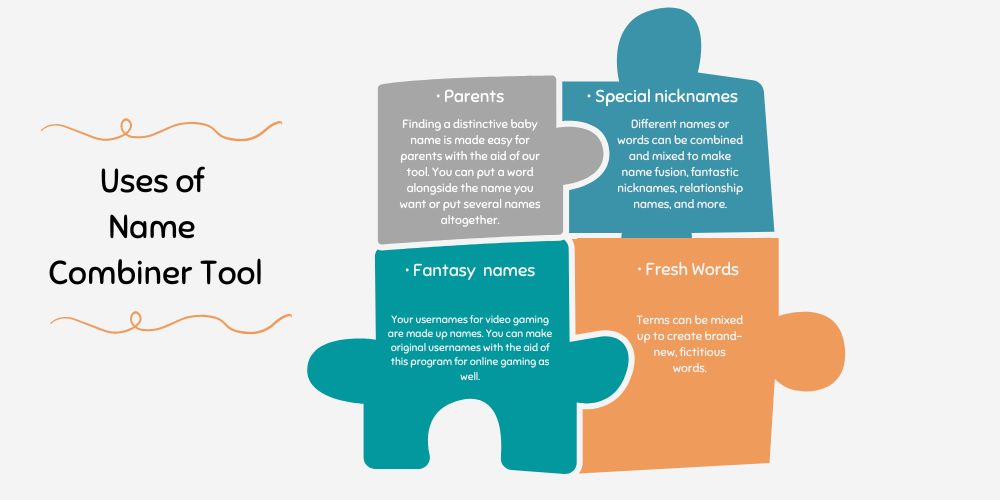 How Combining Names Became a Trend?
A trend that is known more like name fusion, no doubt is very popular. Since you can combine any two titles with the Combiner Tools, they are becoming very well-liked. Couples can use this software to name their newborn, give their partner a nice nickname, and assess their compatibility ratio.
Businesses and enterprises could similarly struggle to choose a name for their business. It is now incredibly challenging for people to give their firm a distinctive yet memorable name combination because there are so many enterprises in the market that fit into various market categories.
As a result, many people rely on tools like Combiners to create catchy and alluring titles that stay faithful to their original meaning.
FAQS
How do you come up with a distinctive yet memorable name?
A distinctive and appealing name can be created by combining two well-known names. Any two names can be combined with the Our Name Combiner Tool.
What are name generators?
Name generators are online tool that let you enter a keyword or group of terms that describe your company and provide you with a list of similar names.
Can this tool generate couple names?
An amazing program called "Name Combiner" combines two names to produce lovely, beautiful couple names. To create a chic pair nickname, you simply need to combine the two individual names. There are many fantastic ideas available for surprising your partner.
How many different words can you mix?
Utilizing our toll-free name combiner, anyone can combine up to four names to obtain every conceivable result.
Can I make up my own domain name?
You can create any domain name with ease, yes. Most of the names you think of are already being used, but we can help you come up with something new.
Concluding Name Mixer
In conclusion, a name combiner is a method used to give people new, original names. Individuals use this to come up with names for their businesses, pets, children, and even the book cover. Since their name reflects who they are and how they behave, many individuals give it a lot of attention.
Therefore, it is essential to consider every feature before coming up with a name for the specified use. Please use our name combine to get the name you like, and don't hesitate to let us know what you think by sending us a message.
We trust that the information in this post has helped you use our Name mixer.
Some Other Generators: