Why Horse Name is needed?
Many fictional and nonfictional works feature horses as beloved companions. Their names may be significant to their owners, if not to the horses themselves. Choosing a name for your horse can be as simple or as complex as you like, as there is a wide range of options from classic to unique.
There are several options for equine monikers that can be tailored to any breed or character trait. If you need assistance with this, our service can generate an enormous number of possibilities at random for you to select from. Our horse's name generator can help you find a strong or a gentle name for your horse.
How does a Horse Name Generator Work?
This random horse name generator is geared toward giving you names that sound like they belong in a book, particularly ones that have heroic or regal connotations. However, many names chosen in popular works of fiction often become more widely used in everyday life.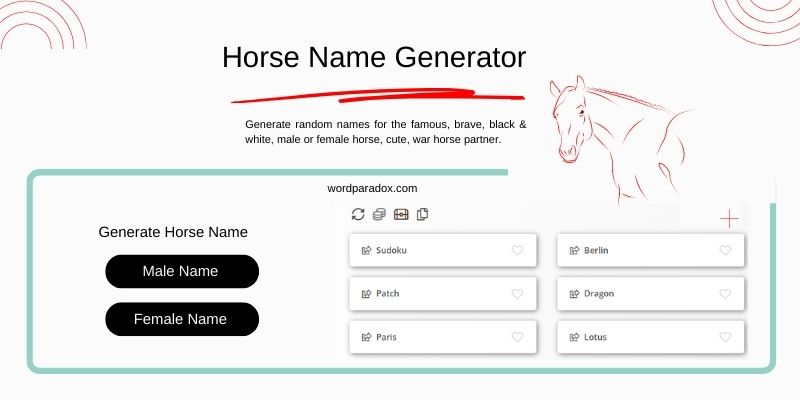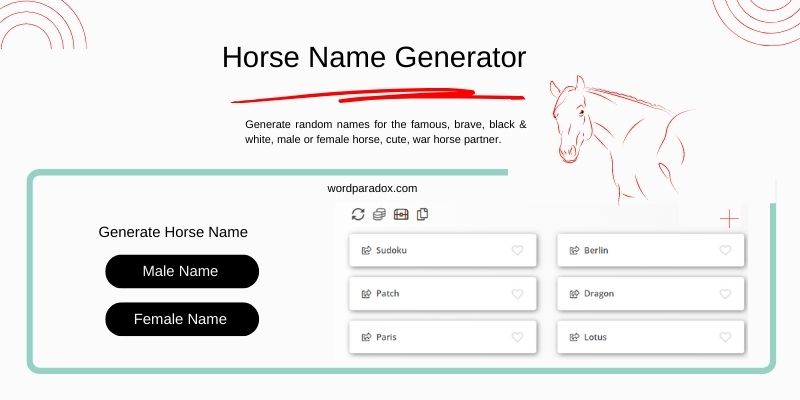 The apparatus we've developed comprises a random selector button and a toggle. It uses a code to sift through names in literature from around the world and return a list that seems to go on forever.
If you click the button, it will show names for the horse's generator list. If you're not satisfied with the first half options, click again for more.
To restrict your search to only results that adhere to standard naming conventions, you must activate this switch.
Tips to Generate Good Horse Name
Helpful Hints for Naming Your Horse Deciding on a name for your horse is a major undertaking, and it can be tough to think of one that is both fitting and original. Some suggestions for what to call your horse:
The Personality of the Horse
Characteristics of a horse consider the horse's personality. Consider whether the horse is a vibrant mount, a stately but submissive mount, or a stubborn steed. Think about these suggestions while you brainstorm potential names.
Breed
Name the horse after its breed or ancestry. To distinguish an Egyptian horse from others, you might call it Egyptian Buraq.
Physical Appearance
Consider some keywords that characterize the horse's physical look or personality. The name Thunderstorm would be appropriate for a black horse with brilliant eyes.
Horse Naming Regulations
There are limits about how many letters a horse's name can have and whether or not it can include either parent's name. In addition, each horse racing organization has its own unique set of rules.
Names cannot consist entirely of numerals below 30 unless those numerals are spelled out.
The length of a name, including spaces and punctuation, must not exceed 18 characters, and it must not terminate in a digit.
Names shall not be derogatory to any particular religion, ethnic group, or political ideology, and names that are already in use.
FAQ's
Can the name of a Horse be on the name of some real person?
No living or recently deceased person's name may be used in the naming of a racehorse without their express written consent or that of their surviving family members.
What are Famous Horse names from TV and film?
In both the film and television industries, horses have been staples for decades. Starbuck, Appaloosa, Trigger, Falabella, and Big Red are just a few of the most well-known horse names that have their origins in either tradition.
Some Other Popular Generators: